Honeywell Extracts
Honeywell Extracts – Reports Papers
Honeywell Continues To Invest In A Faster-Growing, Higher-Margin Future
Link: Honeywell Continues To Invest In A Faster-Growing, Higher-Margin Future
Distributed Control Systems – DCS – Adapting to the Realities of Today's Manufacturing – How DCS Technology Evolved Into a Scalable Automation Solution
Link: DCS – Adapting to the Realities of Today's Manufacturing
The evolution and commoditization of Distributed Control System (DCS) technology has produced a modern, graphical, highly interactive integration platform, which provides process control functionality as well as real-time data connectivity between the plant floor and the enterprise. Development has also led from a proprietary, system-centric architecture to one that is more focused on supporting collaborative business processes….Today, a new breed of scalable and flexible control system is designed to provide end users in mining, pharmaceuticals, biotech and similar process industries with an automation solution that can fit their applications better than Programmable Logic Controllers (PLCs) and costs less than a traditional DCS.
Reasons for Choosing a DCS
The modern generation of control solutions provides
• All the core capabilities expected of a DCS, while enabling plant-wide control and optimization
• Scalability and modular architectures to match exact requirements
• Open, information-enabled, and secure architectures
• Flexibility in the delivery and support for the system
Flexible Automation Strategy
• Seamless platform for integrating all process control and safety systems, as well as automation software, under a single, unified architecture, reduces engineering time, consolidates an operator's view and helps share data across multiple systems.
• Open tools and integrated software applications enable plant personnel to capture and share process knowledge for better decision-making and improved business performance. Using open software also helps companies design ergonomic human interface displays to recommendations from the Abnormal Situation Management (ASM®) Consortium. Engineering is made easier with integrated database and drag-and-drop features for configuring function blocks.
• Open interfaces into the business network support collaborative decision-support to help effectively manage the enterprise supply chain – essentially linking raw material variability to demand variability.
• On-process migration solutions allow end users to upgrade from older systems to the latest automation technology without replacing controllers, I/O or graphics.
Scalable Control Solution
Honeywell's innovative technologies are intended to achieve improved plant performance and better business results, and can be implemented in a way that suits an individual site.
• Tightly integrated DCS and Supervisory Control and Data Acquisition (SCADA)
• Robust process controller to execute control strategies on a constant and predictable schedule
• High-fidelity simulation for training operators and engineers, and proving-out control strategies
• Patented, high-performance Fault Tolerant Ethernet (FTE) control network
• Optional redundancy at all levels: server, network, controller and I/O modules
• Patented algorithm for predictive control
• Universal I/O module design for compact footprint, and efficient installation and maintenance
• Enhanced control builder application and Human-Machine Interface (HMI)
• IEC 61850 interface enabling integration with the electrical system in a single control/SCADA platform
• IEEE 1588 Precision Time Protocol (PTP) support for system-wide SOE
• Powerful reporting tool for debugging and system maintenance
• Smart device integration through industry-standard protocols such as HART®, FOUNDATION™ fieldbus, PROFIBUS and Modbus®
• Centralized asset management system for remote configuration and maintenance of smart field devices
• Integration of PLCs, DCSs, Remote Terminal Units (RTUs), drives, safety systems and weigh scales through SCADA capabilities and OPC servers
• Flexible Distributed Server Architecture (DSA) for integration of processes across multiple units, control rooms, or geographically separated locations for optimum flexibility and system maintenance
• Virtualization solutions intended to improve performance and reliability in the industrial automation domain
Benefits to End Users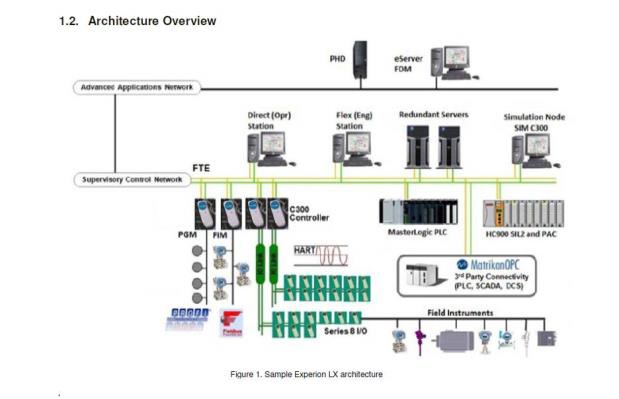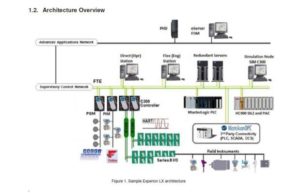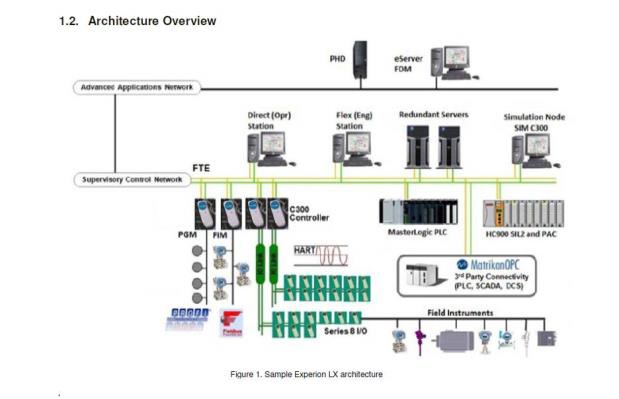 Honeywell
Today's scalable and flexible DCS solutions enable process end users to extend their scope at any time from process control and management to include personnel and assets, and to even integrate the resources of their entire business operation. They allow facilities of all sizes to realize the benefits of distributed control:
• Expedite commissioning and start-up
• Increase production capacity
• Improve reproducibility of processes
• Decrease process and quality variability
• Improve long-term stability and consistency
• Optimize paperless operation
• Simplify configuration of continuous and batch control
• Streamline application development and verification
• Minimize downtime
• Lower maintenance costs
• Reduce lifecycle costs
• Expedite payback on investments
The Distributed Control System has come a long way from proprietary, large systems of the past to being scalable to meet a wide range of applications. Many industrial operations that typically use PLCs should consider what's available to them in current, state-of-the-art DCS solutions.
US Power Company Works with Honeywell to Perform a SCADA Cyber Security Vulnerability Assessment
Link: US Power Company Works with Honeywell to Perform a SCADA Cyber Security Vulnerability Assessment
Honeywell Case Study Total CyberSecurity
Link: Honeywell Case Study Total CyberSecurity
Honeywell CyberSecurity Infographic
Link: Honeywell CyberSecurity Infographic
Honeywell CyberSecurity Secure Media Exchange SMX Infographic
Link: Honeywell CyberSecurity Secure Media Exchange SMX Infographic
Honeywell RiskManager Infographic
Link: Honeywell RiskManager Infographic
Honeywell Staying Ahead Cyberthreats
Link: Honeywell Staying Ahead Cyberthreats
Honeywell Risk Management eBook
Link: Honeywell Risk Management eBook
Honeywell Essentials Of Industrial Cyber Security_eBook
Link: Honeywell Essentials Of Industrial Cyber Security_eBook
Honeywell HPS CyberVantage Managed Security Services Brochure-EN
Link: Honeywell HPS CyberVantage Managed Security Services Brochure-EN
Honeywell-Industrial-Cyber-Security-Brochure
Link: Honeywell-Industrial-Cyber-Security-Brochure
Honeywell Media
Tags: Honeywell,